Paper Ninja has been out for some time but due to the latest update Apptrawler was considered cool enough to get a promo.  We are extremely happy to have been considered as we have really enjoyed slicing and dicing our lightweight enemies.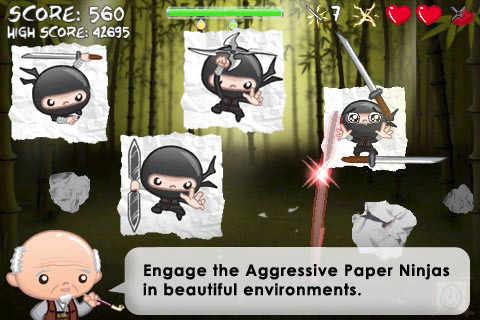 If you need a plot then the game follows the exploits of a ancient martial artist whom when attacked by ninjas in the middle of the night uses his ninja magic to turn them into paper…  … …  ok so plots are over rated… there was once a plumber who was attacked by an angry turtle… I hear he did quite well.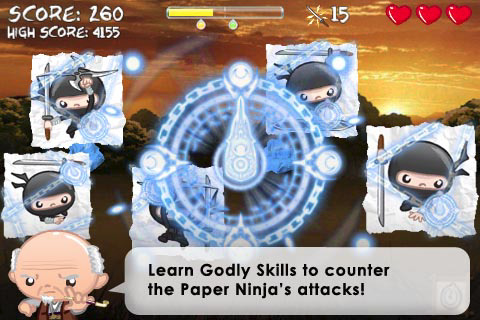 Anyway, the game sees the protagonist; you, use your finger to slice the on coming horde of paper ninjas.  each ninja holds their sword in a different position and you need to ensure that you do not touch the sword.  If you do end up touching the sword you use one of 'disarm' abilities, of which you only have three to begin with.  If the ninja's go 'unsliced' then they hit the screen (in the form of a fun little plaster) and you lose one of your 3 lives.
This is a fun little game in a similar style to fruit ninja which is great for killing time.  Aside from the general slicing there are combos, power ups a great selection of magic such as freezing the ninjas by using the 'pinch' motion.  The game is Openfeint enabled and you can rack up a whole host of achievements.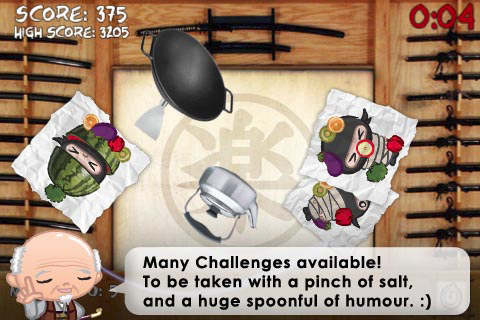 In order to give a bit of variety to the game play the developers Real Inverse have added a great challenge section with 3 mini games to rack up points dancing and making ninja salads.
The graphics are clean, simple, and fun which all look tidy and professional.  The sound and music is spot on which all the proper 'shwings' and 'clangs'.
As this has already been updated I don't think we have seen the last of the Paper Ninja and we wish them the best of luck in the charts as this is a great game that takes a simple concept and turns it into a solid entertaining game.   If you don't already have Fruit Ninja, then this is a sure fire contender to get instead!!
Other Articles