I have not been this excited about a puzzle game since puzzle fighter. I have played my fair share of the classics from Tetris to Bejeweled so when I found myself reviewing what I assumed was a match three jewel game called 'Tomb Breaker' I wasn't expecting much.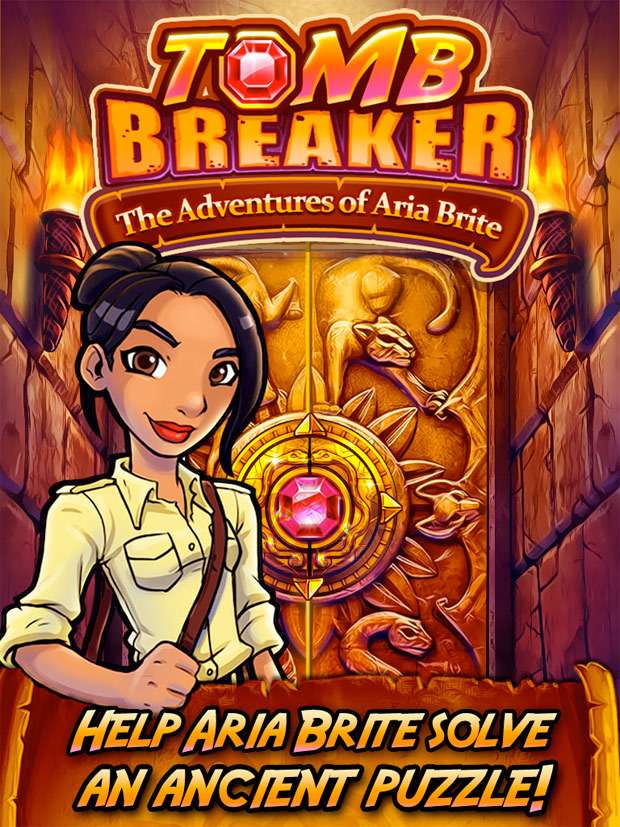 Graphics-wise this game holds its own against the slew of Bejeweled and Zuma clones already out their on the market. Although there are not many, there is some really nice animations and the whole package is lovingly polished. Tomb Breaker's jewel collecting narrative is told through the eyes of a young Tomb raider called Aria Brite. It's slightly familiar territory but to be honest, it's all about the puzzles as apart from a cartoon girl and a voice over intro there is no real story or progression through a narrative.
The games main mechanic is matching the same colored jewels with each other that are horizontal or vertical to each other (not diagonal). The jewels do not need to be directly next to each other and you can connect multiple gems in a single swipe. It's easy to get the hang of but difficult to master. Extra bonus points are given when you connect the entire collection of a single colour or if you cross your own lines. Each round lasts 60 seconds and you not only collect points but special gems which act as currency to buy power ups.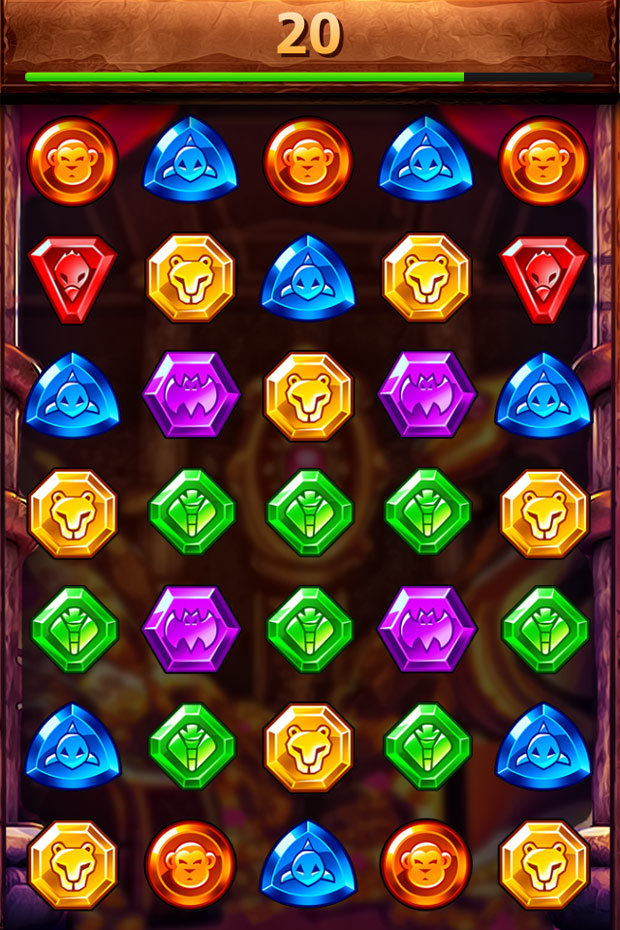 The Power Ups
The power ups come in five styles:
– double points
– 10 more seconds
– lighting mode
– double crossover points
– +1 to all matches
The game is very addictive and it wasn't long before I had earned my 'Played 50 games' gamecentre achievement. Some rounds everything goes your way and you are clearing colours, crossing the lines and stacking up a pile of special jewels to use to buy powers ups and other times you have difficulty getting three gems to line up. This is a great pick up and play game that you can dip in and out of as you please.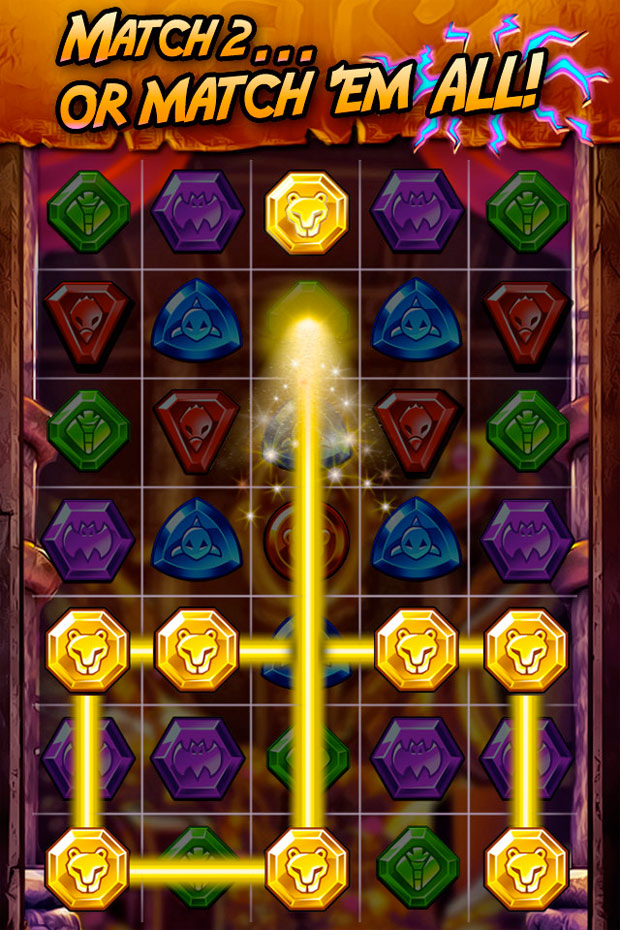 The Issues
There is however, a few issues that stops this game reaching the top score and top of that list is the cost of the power ups. I played well over 50 games and earned enough to buy one of the power ups. I eagerly purchased the '10 more seconds' power up thinking that more time would lead to more points and more prizes. For a short time (about two rounds) this was true but them the power up was removed and I was left having to play another 50+ games to attempt to earn another one. Of course you can buy booster packs to gain extra currency ($1.99 will get you 100,000 and power ups cost between 3000 – 7000) am I did buy one pack in order to test out the other powers up (as well as support the developer as it was a free game) but I was a little annoyed.
I have spent the week playing and playing and although I still think this is a great game, many gamers will lose interest with it after a while as there is no story or quest mode, and you are ulytimately playing the same board over and over. If there was a steady progression of obstacles, enemies, boosters and general forward movement then this would score better on the longevity front. As it stands however, you may be like me and really enjoy playing it but ultimately stop playing after a while for lack of progression. If you enjoy playing over Facebook and challenging friends then it will last longer but if you are just after a fun puzzler in those 'quiet times' then you may be disappointed later down the road.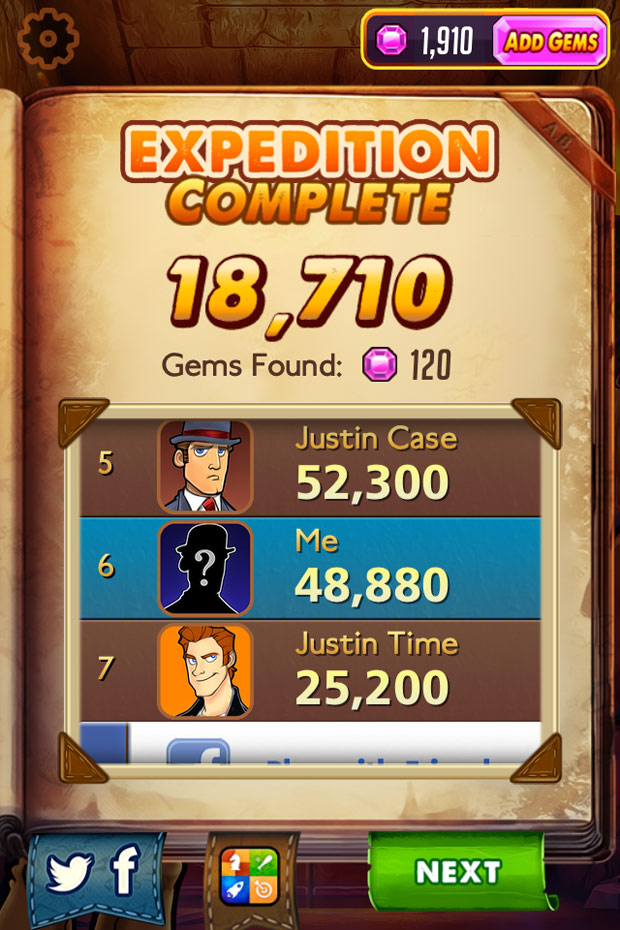 Overall
Overall this is a highly polished and hugely addictive game marred by over ambitious in app purchasing expectations and limited story line and progression. As its free I would definitely recommend downloading it but if you are stingier gamer who doesn't like shelling out for in-app purchases then don't get too excited about the power ups as you will only get to use them one in fifty games.
Related articles
Other Articles