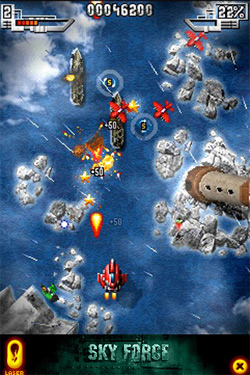 It's a bit of a late heads-up, but scrolling shooter fans should take advantage of Infinite Dreams' weekend giveaway of Sky Force [App Store] in celebration of the studio's iQuarium being in the App Store Top 100 list.
Sky Force is a traditional vertical arcade shooter in which you must battle across seven different levels, one of which features a boss-battle at the end. The game offers a variety of pickups and powerups along the way.
The game bears much similarity to Infinite Dreams' earlier iPhone release, Sky Force Reloaded, which we reviewed back in March. (Reloaded was, interestingly, released to the App Store before Sky Force.) The game delivers a solid arcade shooter feel superior to that of many similar titles that can be found in the App Store.
Originally a mobile title that launched to rave reviews, the iPhone version, normally priced at .99, is free for the duration of the weekend. Don't miss a freebie on a great iPhone vertical shooter experience.
App Store Link: Sky Force, Free (limited time)
Other Articles